The MP-50 surround sound processor from Lyngdorf Audio is built for the demanding audiophile who requires the ultimate video performance. It is a scaled down version of the Model P200 from Steinway Lyngdorf. Where the Model P200 is built for a closed, ultra-high-end system, the MP-50 can be combined with any other brand on the market.
Immersive surround sound
The MP-50 offers full support of the new immersive surround formats Dolby Atmos®, DTS:X, and AURO-3D®, and it features balanced outputs for a 11.1 audio setup plus four auxiliary channels, which can be used for additional speakers or woofers.
Built-in media player
The MP-50 features a built-in media player, which connects to Airplay, Spotify, and Roon as well as internet radio. Through a cabled network or USB connector, you can access your library of music and enjoy it in stereo or as up-mixed to a surround sound format.
Flexibility in installation
Increased flexibility is achieved through HDBaseT, a feature set that converges uncompressed full HD digital video, audio, and 100BaseT Ethernet through a single CAT5 cable to your projector or TV. Multiple control options allow you to integrate the MP-50 with control systems, IR sensors, and triggers, whereas the IP-control or the RF remote offer a direct control of all features. The remote web interface and ihiji offer a professional installer total control and assurance of performance over time.
Control the MP-50 with an app
The "Lyngdorf Remote" app automatically discovers the MP-50 connected to your local network, and you will be able to adjust all the basic functions like input selection and volume level from your handheld device. The built-in media player can be controlled directly, and you can access music files stored on pen drives connected to the Lyngdorf MP-50 as well as search all files stored on your local hard drives. Swiping left and right gives you access to cover art as well as informing you of the signal resolution.
"Lyngdorf Remote" app is available for free download from both IOS and Android.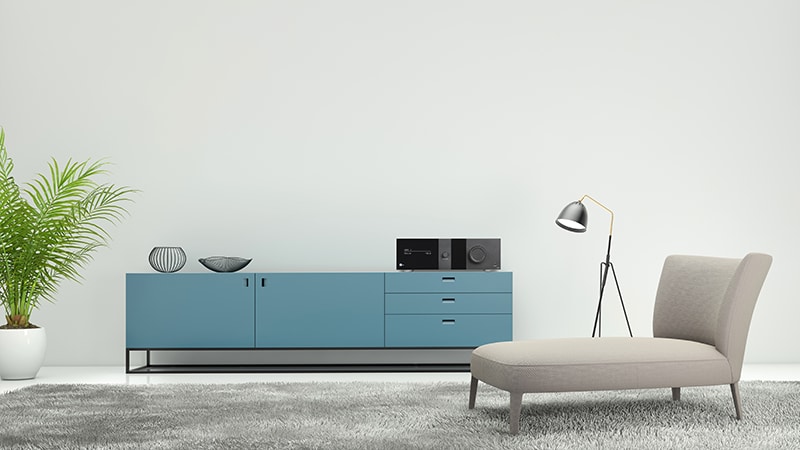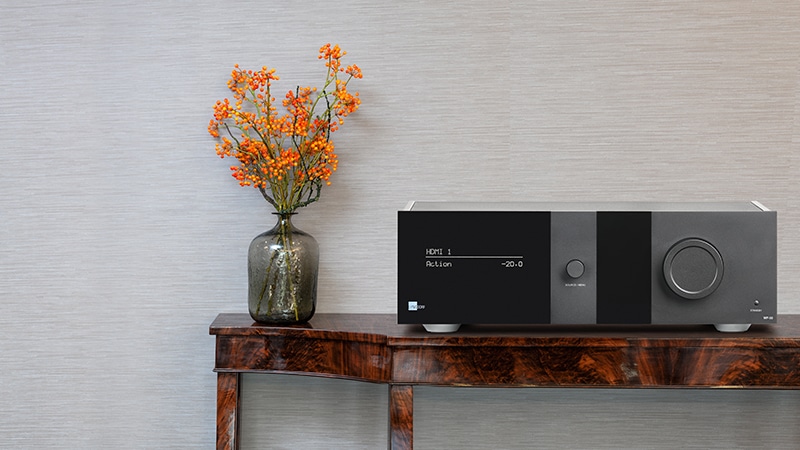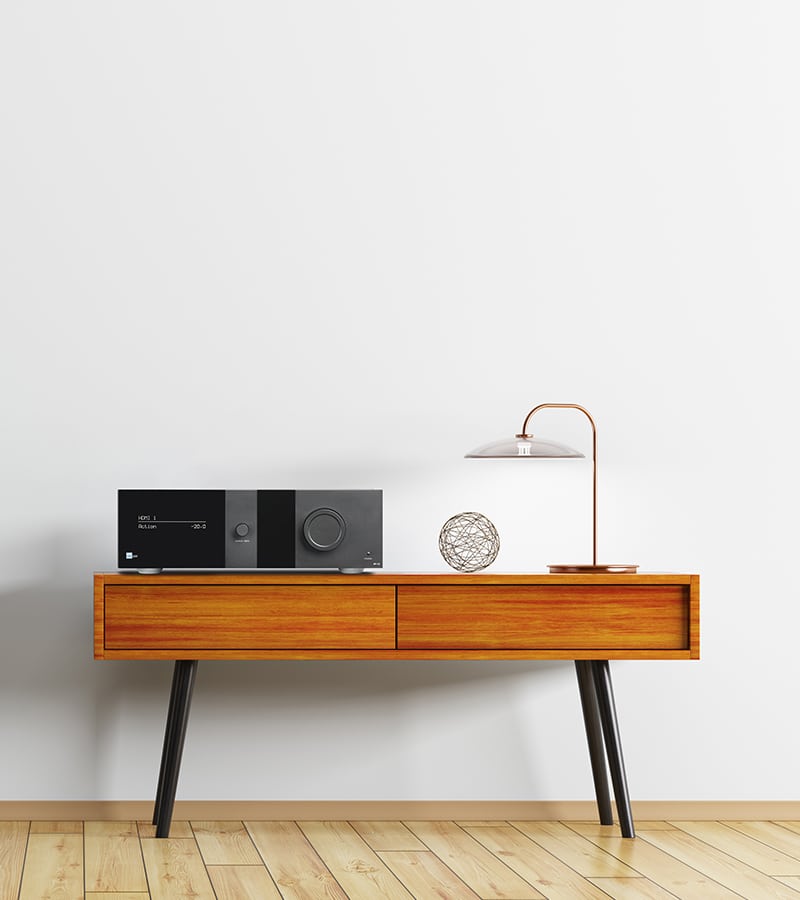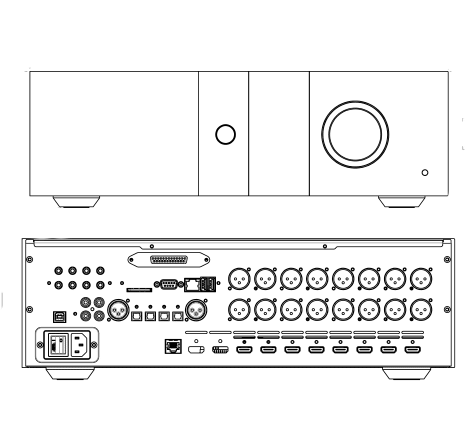 Specifications
Decoding: Dolby® Atmos, Dolby Digital, Dolby Digital EX, Dolby Digital Plus, Dolby TrueHD, DTS, DTS ES Discrete 6.1, DTS ES Matrix 6.1, DTS 96/24, DTS-HD High Resolution Audio, DTS-HD Master Audio, DTS:X, AURO-3D®
Post processing: Dolby surround, AURO-MATIC®, Auro 2D, DTS NEO:X, DTS Neural:X, movie, game, music, stereo, party
Audio inputs: 8 x HDMI (≤192kHz/24bit), 1 x AES/EBU S/P-DIF input (≤192kHz/24bit), 3 x S/P-DIF coaxial inputs (≤192kHz/24bit). 4 x S/P-DIF optical inputs (≤96Hz/24bit), 1x USB audio input (≤192kHz/32bit) , 1x XLR mic. input for calibration
Audio outputs: 16 x XLR analog outputs (5.0 Vrms), 1 x SPDIF coax digital zone output (fixed 96kHz/24bit)
Video inputs: 8 x HDMI (HDCP 2.2), Accepts 3D, 4K UHD & HDR10
Video outputs: 2 x HDMI (HDCP 2.2), 1 x HDBaseT, Upscaling of all video to 4K ultra high definition, No downscaling of 4K video
Media player: Internet radio (vTuner), Spotify connect, DLNA Support (uPnP) (see DLNA formats), Airplay, Roon Ready
Optional module: DCI-compliant digital AES/EBU input for movie servers
Placement options: Rack mount and freestanding
Dimensions (H x W x D): 14.7 x 45.0 x 37.0 cm, 5.8 x 17.7 x 14.6 in
Weight: 9 kg / 19 lbs
Downloads:
Windows drivers for USB module
External control manual
Technical drawings
Owner's manual
Control4 driver
Latest software
White paper
Fact sheet
Pictures
Easy overview of the Lyngdorf processors
Can you remember how many channels the MP-50 upgrade can decode? Or what the video bandwidth is in the new MP-60? To give you an easy overview of the differences between our Lyngdorf processors – MP-50, MP-50 upgrade, and MP-60 – we have made a one-pager with the three processors' specifications.
Related products
Maybe you will also like...