Lyngdorf TDAI-1120 provides the ultimate in flexibility. Its small design footprint allows it to be easily placed anywhere in the home, and the vast feature set offers a great variety of streaming options. All the user-friendly features you could ask for and paired with Lyngdorf Audio's world-famous digital amplification technology and patented RoomPerfect™ room correction for the ultimate listening experience.
Connecting the TDAI-1120 to the HDMI (ARC) output of a television, will turn the TDAI-1120 into the best sound system possible for your movies. With CEC and eARC lip-sync functionality the TDAI-1120 can connect perfectly with tomorrows televisions and receive the on-off and volume commands from your television remote.
New world of streaming
Connect the TDAI-1120 to your WiFi and enjoy all the integrated streaming services.
Chromecast built-in
Spotify® Connect
TIDAL Connect including MQA decoding
Roon Ready
AirPlay2
Bluetooth connectivity
Internet Radio (vTuner)
Network/local file playback
The TDAI-1120 accepts all your media interfaces and holds itself an advanced media player of the highest quality. Through the network or via the USB connectors, you can access your library of music through the DLNA/ UPnP enabled player. All can intuitively be controlled with your smart phone, tablet, or computer.
The ultimate experience
The TDAI-1120 ships complete with RoomPerfect™, providing the ultimate listening experience. With RoomPerfect™, the TDAI-1120 delivers a perfect musical experience in all living rooms. Without the need for extensive acoustic treatment, you get a sound system with optimal frequency response, seamless level alignment, and bass management that perfectly integrates the speakers and subwoofers.

Kontroluj wzmacniacz TDAI-1120 za pomocą aplikacji
Aplikacja "Lyngdorf Remote" automatycznie wykrywa wzmacniacz TDAI-1120 podłączony do Twojej sieci lokalnej i umożliwia sterowanie z poziomu urządzenia przenośnego wszystkimi funkcjami podstawowymi, takimi jak wybór wejścia czy poziom głośności. Za jej pomocą można bezpośrednio sterować wbudowanym odtwarzaczem multimedialnym, z dostępem do plików muzycznych przechowywanych na podłączonych do wzmacniacza Lyngdorf TDAI-1120 pamięci przenośnych i możliwością wyszukiwania plików na lokalnych dyskach twardych. Przesuwając palcem w lewo i w prawo uzyskujesz dostęp do okładek albumów oraz informacji o rozdzielczości sygnału.
Aplikację "Lyngdorf Remote" można bezpłatnie pobrać zarówno dla systemu iOS, jak i Android.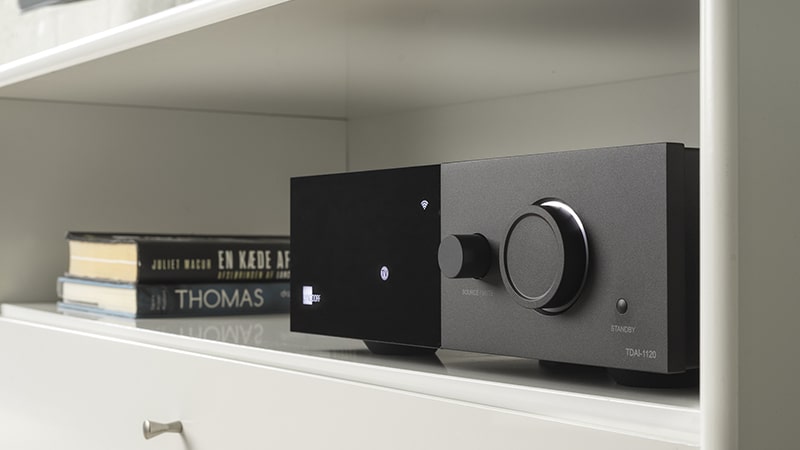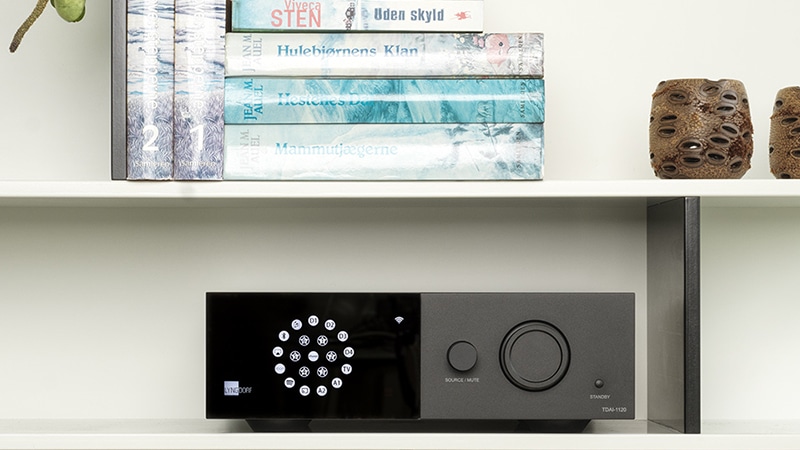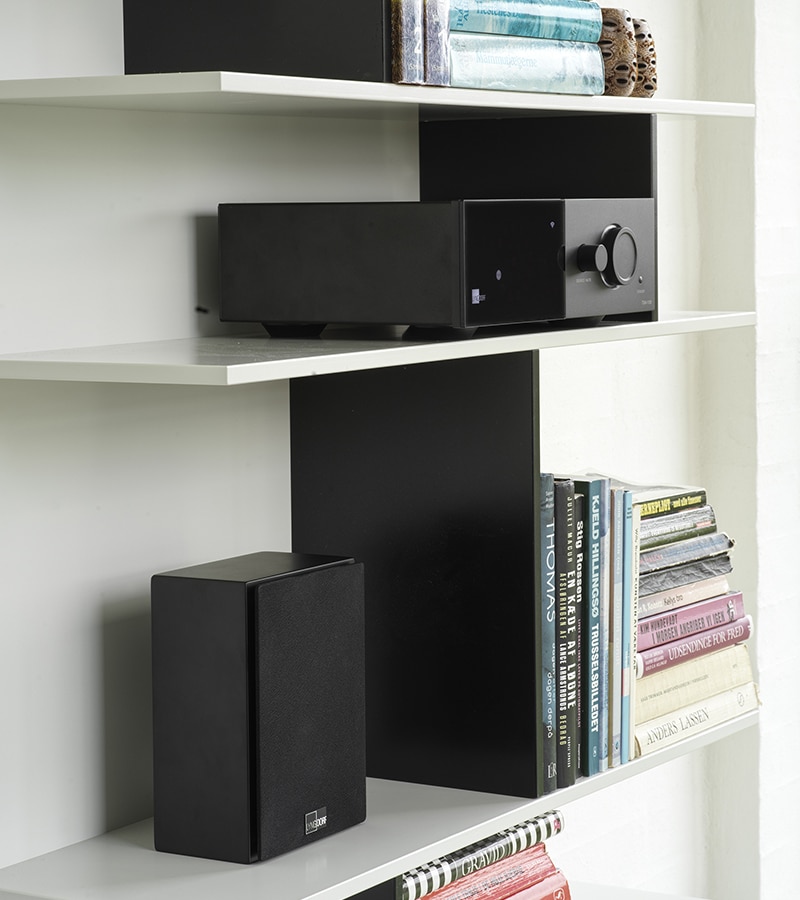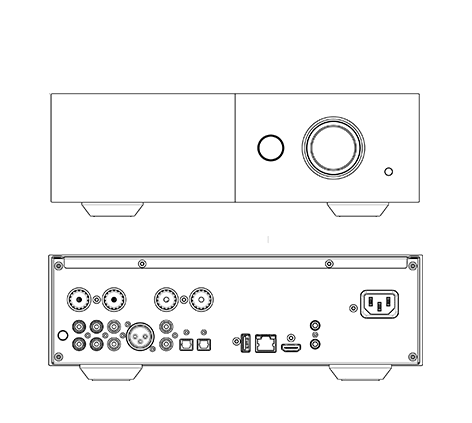 Specifications
Description: 2-channel streaming amplifier
Power rating: 2 x 120 W RMS @ 4Ohm / 2 x 60 W RMS @ 8Ohm
Max output current: 30A
Audio specifications: Frequency Response: ±0,5dB from 20 to 20,000 Hz, Total Harmonic Distortion: 0.05% max from 20 to 20,000 Hz THD-N 1w/8ohm 0,04%, THD-N 1w/4ohm 0,04%
Digital inputs (Asynchronous): 2 x Coaxial (≤192kHz/24bit) 2 x Optical (≤96 kHz/24bit) 1 x HDMI eARC (≤24 bit/192 kHz)
Analog inputs: 1 x Phono Single Ended RCA (RIAA / 47kOhm 100pF), 1 x Analog Single Ended RCA (Max level: 4.0V = 0dBFS) 1 x Microphone input (XLR) for RoomPerfect™ calibration
Analog output: 1 x Stereo Analog RCA (75ohm-Max output level 4 Vrms)
EQ: RoomPerfect™, Pre-Equalizer, ICC, 32 x adjustable voicings holding ≤8 filters with adjustable gain and Q
Media player: Internet Radio (vTuner), Spotify Connect, TIDAL Connect including MQA decoding, Roon Ready, Google Chromecast, Apple AirPlay2, DLNA Support (UPnP/see DLNA formats), Local file playback (USB), Bluetooth (BLE)
Wireless connections: Bluetooth connectivity, Wi-Fi (802.11 n)
Interfaces: Intuitive input selector, Web-interface for setup and media player, Remote application for IOS and Android, IP control, CEC (HDMI), 1 x trigger input, 1 x trigger output, 1 x RJ45 Ethernet LAN connector, 1 x USB connectors (Type A)
Remote control: Infrared
Accessories included: RoomPerfect™ microphone, Microphone stand, Microphone cable
Optional accessory: IR remote control, rack mounting kit
Placement options: Freestanding
Heat dissipation value: 170 BTU
Dimensions (H x W x D): 10.1 x 30 x 26 cm (including connectors), 3.98 x 11.8 x 10.3 inches (including connectors)
Weight: 3,3 kg / 7.3 lb
Finish: Anodized aluminum, matte black
Downloads:
External control manual
Technical drawings
Owner's manual
Control4 Driver
Latest software
TDAI voicings
CI fact sheet
Brochure
Pictures
Przeczytaj najnowsze recenzje
Produkty powiązane
Może spodoba Ci się również …

Wzmacniacz
Lyngdorf TDAI-3400

Procesor dźwięku
Lyngdorf MP-40

Wzmacniacz
Lyngdorf SDA-2400

Odtwarzacz płyt CD
Lyngdorf CD-2