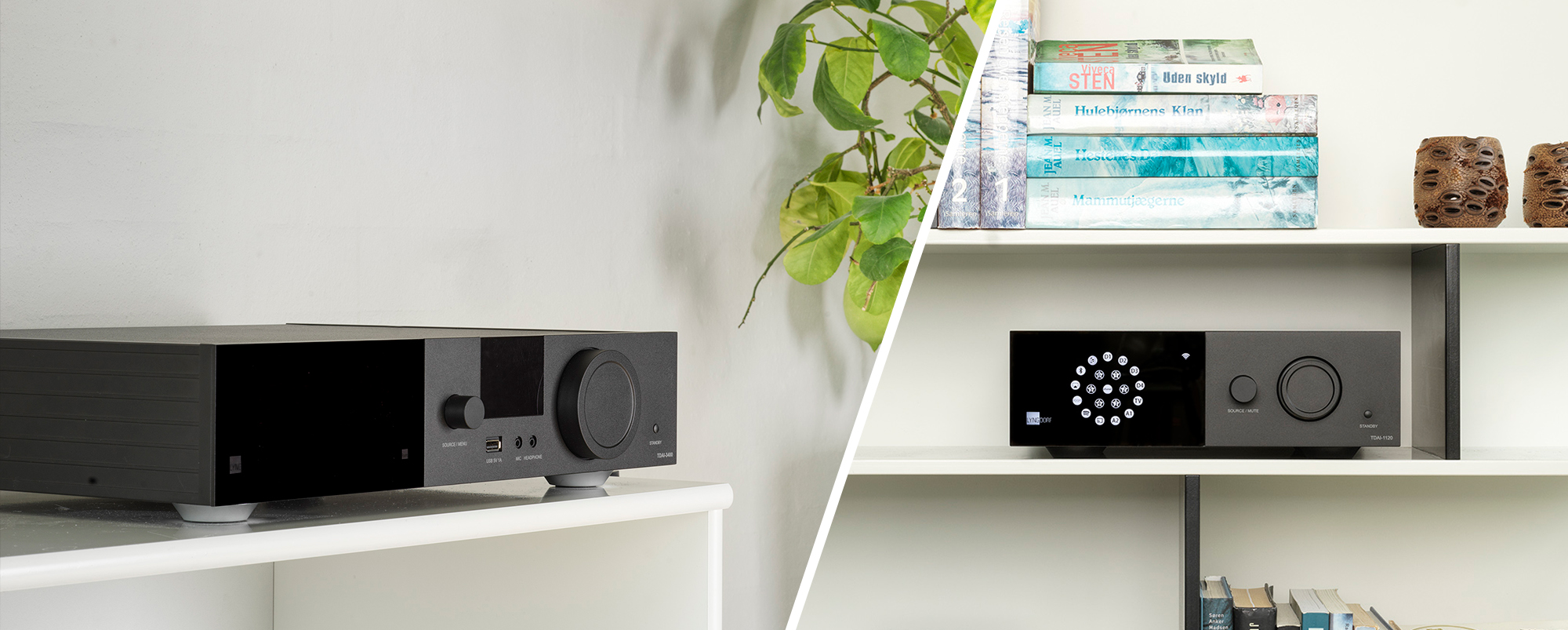 Expert advice
Which amplifier to choose – TDAI-3400 or TDAI-1120?
Both models are digital Lyngdorf TDAI amplifiers with app control, music streaming, multiple analog and digital inputs, digital voicing eq, and RoomPerfect™. Apart from the obvious size and price, these are the most relevant differences:
Power
The TDAI-3400 is much more powerful, delivering up to 400 watts and 40A of current. This allows the amplifier to play louder with less effort, while delivering more dynamic headroom for demanding music, especially in larger rooms or with low-sensitivity speakers. The TDAI-1120 will still surprise in most systems and rooms, because the digital TDAI design means all of its 120 watts can be used without sounding stressed and without wasting power in heat. Furthermore, RoomPerfect™ will ensure that all power is used most efficiently in the room.
Inputs and outputs
The TDAI-3400 offers more analog and digital inputs including USB-B, and even more can be added with the optional analog and HDMI modules. It offers analog RCA, analog XLR, and digital coax outputs, for example to connect power amps, subwoofers, or recording devices simultaneously. The smaller TDAI-1120 has one HDMI eARC input and fewer analog and digital inputs as well as only one analog output.
Headphone output
The TDAI-3400 offers a 3.5mm headphone output with a high quality analog output stage, able to drive even demanding headphones. The TDAI-1120 requires an external headphone amp connected to the analog pre-out.
Larger display
The TDAI-3400 has a larger, more informative screen to read text, read the volume level number, and see voicing curves, also from a distance. The TDAI-1120 has a purer display with input icons, Wi-Fi icons, and an intuitive volume level illumination.
Remote control
Both models can be operated by app and remote control; however, the remote control for the TDAI-1120 has to be ordered separately.
Streaming options
The TDAI-1120 is the company's latest streaming amplifier offering Google Chromecast and Airplay 2 for music streaming from your smartphone or computer. The larger and more expensive TDAI-3400 with Airplay additionally has Tidal Connect with MQA decoding integrated. The TDAI-3400 also features a USB-B connection for playing DSD and MQA files from a computer. Both amplifiers offer Spotify Connect, vTuner, and the option to play music files via UPnP/DLNA or directly from USB memory drives. Both amplifiers are Roon ready.
If you have further questions, check our Support section.
RoomPerfect™
Most high-end products are developed in sonically ideal listening rooms with optimized dimensions and acoustic treatments. However, in reality, sound systems are installed in authentic living spaces, not sound labs. Your sound system should be perfect in your environment – and with RoomPerfect™, we can promise it will be.