Thank you for making CEDIA Expo 2017 a record success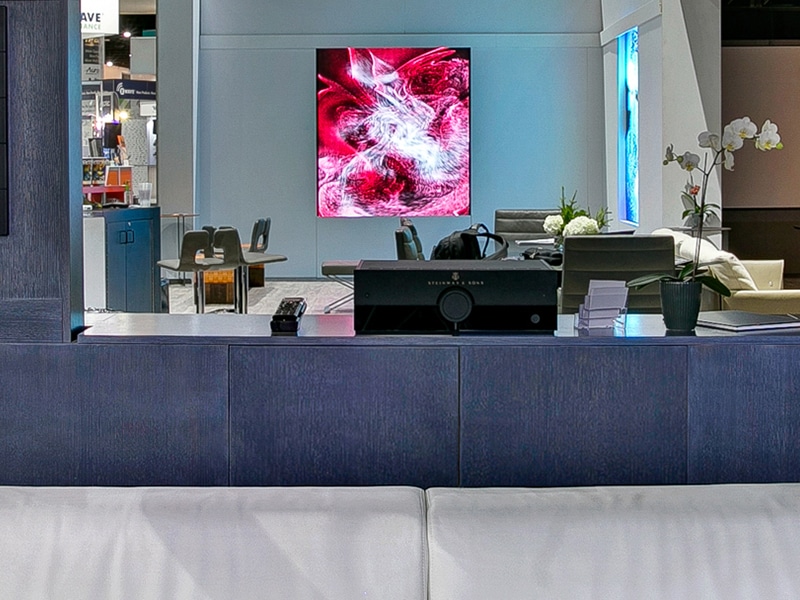 Attendance at Expo was at a record high of over 20,000 this year! We are always thrilled to see so many of our valued partners at Expo and have the opportunity to share our products with new connections. Thank you to everyone who made the time to stop by and to those who joined our partner training sessions – we appreciate your support! For questions about anything you saw at the show for Steinway Lyngdorf or Lyngdorf Audio, please email USA@steinwaylyngdorf.com.
If you didn't make it to CEDIA Expo this year, here's what you missed:
Steinway Lyngdorf and Lyngdorf Audio made a stellar showing at this year's record-setting CEDIA Expo in San Diego, California, with live demonstrations and product showcases as well as in-depth training opportunities for partners.
The highlight of the Steinway Lyngdorf exhibit was its partnership with Barco Residential to create a high-performance media room featuring Model M speakers powered by the Model P200 surround sound processor. Attendees raved about this high-tech display, which included a custom-designed console table hiding two rear speakers. Through a collaboration with Nexus 21, the two rear Model M speakers rose silently out of the table at the touch of a button. The powerful surround sound system was paired with a Screen Innovations Zero-G screen and Barco Loki 16/9 projector with Nexus 21 Eclipse Projector Drop Down, completing the media room transformation and demonstrating that perfect sound can happen anywhere. The configuration demonstrated an elegant solution to lower level Atmos speakers in media rooms as well as rear speakers in an open floor plan space.
CEDIA also provided a perfect opportunity to showcase Lyngdorf Audio in a re-creation of the company's Hollywood Loft in Los Angeles, in partnership with Cineak. Attendees experienced a Lyngdorf Audio stereo setup with a live demo of the MH-2/BW-2 stereo system as well as a display of the new MP-50 surround sound processor. Released in spring 2017, the MP-50 sold out in record time. Providing superior performance for media rooms and large dedicated theaters, the sleek MP-50 supports all immersive sound formats including Dolby® Atmos, DTS:X, and Auro-3D®; in addition to supporting 4K and HDR. The MP-50 includes Lyngdorf's proprietary RoomPerfect™ room correction, bass management, and seamless level alignment and built-in streaming services. It offers seamless integration with all control platforms including Josh.ai, Savant, Crestron, and Control4, as well as remote monitoring.
The MP-50's CEDIA debut generated a tremendous response, especially since it coincided with a rave review in the renowned publication Widescreen Review.
Steinway Lyngdorf and Lyngdorf Audio also provided in-depth partner training at this year's CEDIA to review core technology platforms, product lines, company history, and new processor features.
Get the latest news in your inbox!