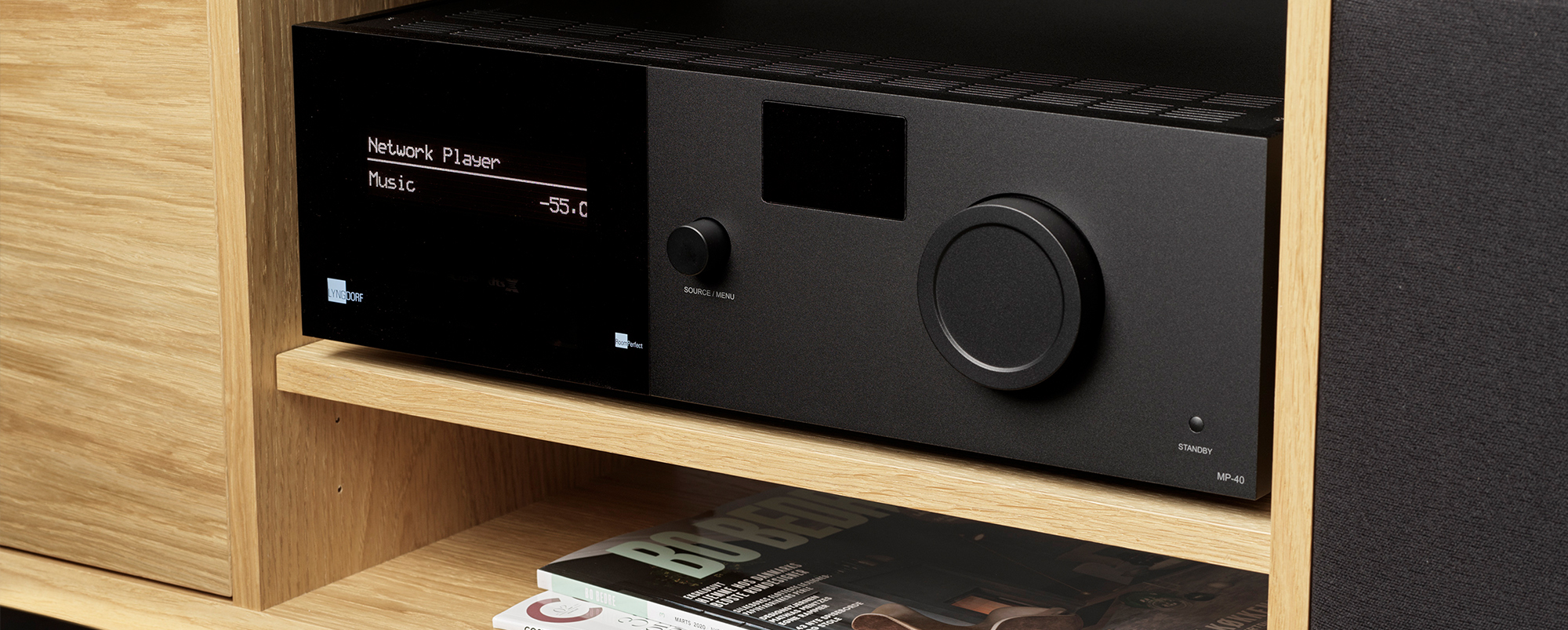 Beginner's guide
An introduction to Dolby Atmos Music
The name Dolby is often linked to movies and home cinemas. But Dolby also represents the next level for listening to music. Read more to learn why.
What is Dolby Atmos Music?
Dolby Atmos Music is an immersive music experience based on a three-dimensional soundscape. The word Atmos comes from atmosphere, and sound-wise, this atmosphere is created by speakers positioned above ear level. Dolby Atmos is a step up from stereo and surround sound, as both are still two-dimensional. It's the equivalent to Dolby Atmos for movies, where it is used for immersive sound effects around the listener. Music albums or tracks are produced in certified Dolby Atmos Music studios, either as native immersive recordings created by the original musicians and studio engineers, or as existing recordings remixed with added immersive effects. To replay Dolby Atmos Music, a multichannel processor with Dolby Atmos decoder and a matching number of speakers are required.
How does it sound?
Many who have experienced Dolby Atmos Music for the first time say there's no going back. Extending the soundscape to the sides and above the listener makes it much more realistic, as this is how we hear music and sound in real life. From New York's Carnegie Hall to Milano's La Scala, you hear the musicians and their instruments on stage, as well as their reverb and the whole audience in the theater around you. With electronic music, ambience, or modern pop music, immersive sound effects give the artist much more freedom to be creative and move virtual sounds around you. With every kind of music, immersive is a totally different sound experience compared to stereophonic. Native stereo recordings can still sound more real and authentic without immersive upmixing.
Can it be experienced with any speaker system?
The immersive sound experience is based on sound coming from alongside, behind, and above the listener. Even music which has been mixed in Dolby Atmos but played over stereo speakers, soundbars, or surround systems won't give listeners the level of immersiveness created in the studio. The number of speakers depends on the room size and room length and can range from 5.1.2 to 7.1.4 to 9.1.6 or more, with the last number indicating the number of Atmos speakers placed above the listeners: two, four, or six. At least four are recommended for the best immersive sound experience, while two already lift the soundscape.
What are good Dolby Atmos Music examples?
From thousands of recordings, here are some to try out.
John Williams and Berlin Philharmonic Orchestra, The Imperial March, from The Berlin Concert (Deutsche Grammophon). The ebb and flow of quiet and loud orchestral moments is great for hearing the recorded reverb from the venue.
Jóhann Jóhannsson, Flight From the City, from the album Orphée. With closed eyes, this atmospheric soundtrack lets the listener float away, immersed by sound.
Billie Eilish, When the Party is Over, from the album When We All Fall Asleep, Where Do We Go? The immersive sound effects are subtle but create an eerie atmosphere, just as Billie and Finneas intended.
Norah Jones, Don't Know Why, from album Come Away with Me. Already a favorite album from stereo to DVD-A and SACD surround sound, the latest Atmos remix places the listener in a small club with Norah, with the band playing live on stage.
Louis Armstrong, What a Wonderful World. Obviously this is not a native Atmos recording, but a good example of a new and fascinating immersive remix, from Armstrong's close voice to the acoustic guitar and orchestra that surround him.
Which Lyngdorf Audio products are required?
The source for Dolby Atmos Music can be Tidal, playing from the MP-40 2.1, MP-50 or MP-60 2.1 with its embedded Tidal Connect streaming player. The MP-40 2.1 allows up to 12 channel decoding, while the MP-60 2.1 allows up to 16 channel decoding. The required number of channels and speakers depends on the room size and room layout. For the Atmos speakers, the D-5C model with its angled and adjustable tweeter is ideal for the ceiling.
RoomPerfect™
Most high-end products are developed in sonically ideal listening rooms with optimized dimensions and acoustic treatments. However, in reality, sound systems are installed in authentic living spaces, not sound labs. Your sound system should be perfect in your environment – and with RoomPerfect™, we can promise it will be.