With extreme audio processing options combined with the most powerful and advanced digital amplifier technology, the TDAI-3400 is the most powerful product from Lyngdorf Audio yet marketed.
Tailor your setup and sound
Through the web interface you can perform all setup and operations from the menu system, which allows you to tailor your setup and sound, and the digital crossover allows 3 individual output settings. With our proprietary RoomPerfect™ room-correction software to eliminate the negative influence of the listening room, the TDAI-3400 delivers a perfect sound without the need for extensive room treatment.
Connect audio and video sources
A variety of inputs and outputs provide plenty of options to connect your audio and video sources as well as your speaker setup – such as 7 digital inputs including a balanced AES/EBU, USB inputs connects to music stored external, 2 analog inputs for simple analog music sources and optional modules.
Built-in media player
The TDAI-3400 accepts all media interfaces and features a built-in media player with the highest playback quality. Through your local network or via the USB connectors, you can access your entire library of music through the DLNA/UPnP enabled player. This media player also allows music streaming using Roon Ready, Spotify Connect, and Airplay 2 as well as internet radio. The TDAI-3400 also supports TIDAL Connect which allows lossless audio quality with the TIDAL app as the controller, and it includes the MQA Core Decoder, which unfolds the MQA file once to deliver better than CD-quality. MQA (Master Quality Authenticated) is an award-winning British technology that delivers the sound of the original master recording.
Ovládání procesoru TDAI-3400 pomocí aplikace
Aplikace "Lyngdorf Remote" automaticky vyhledá zesilovač TDAI-3400 připojený k vaší místní síti a vy budete moci upravovat všechny základní funkce, např. volbu vstupu a nastavení úrovně hlasitosti na svém mobilním zařízení. Vestavěný multimediální přehrávač lze ovládat přímo a získáte tak přístup nejen k hudebním souborům uloženým na jednotkách USB flash připojených k zesilovači Lyngdorf TDAI-3400, ale také budete moci vyhledávat všechny soubory uložené na místních pevných discích. Posunutím doleva a doprava získáte kromě přístupu ke grafice obalu alba také informaci o rozlišení signálu.
Aplikace "Lyngdorf Remote" je k dispozici ke stažení zdarma pro systémy IOS i Android.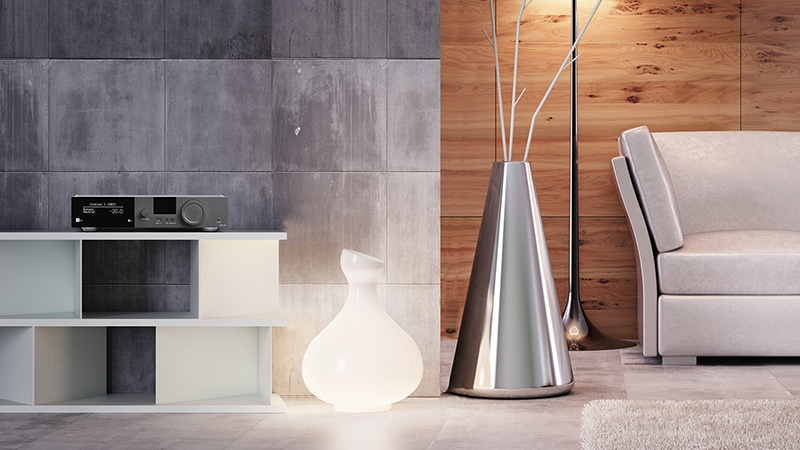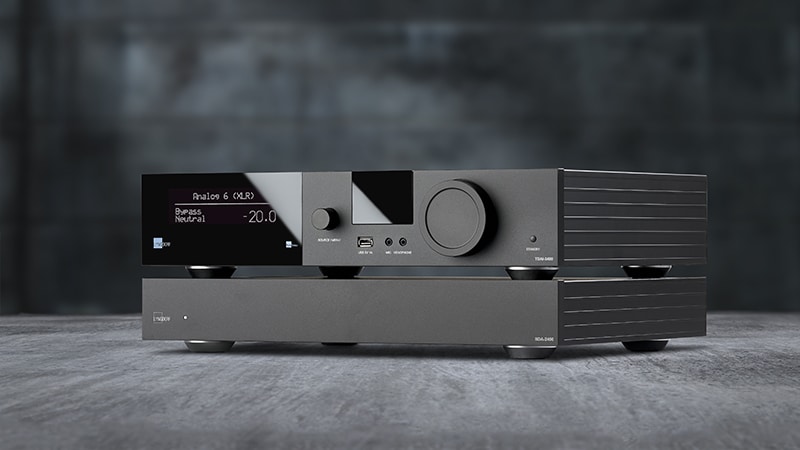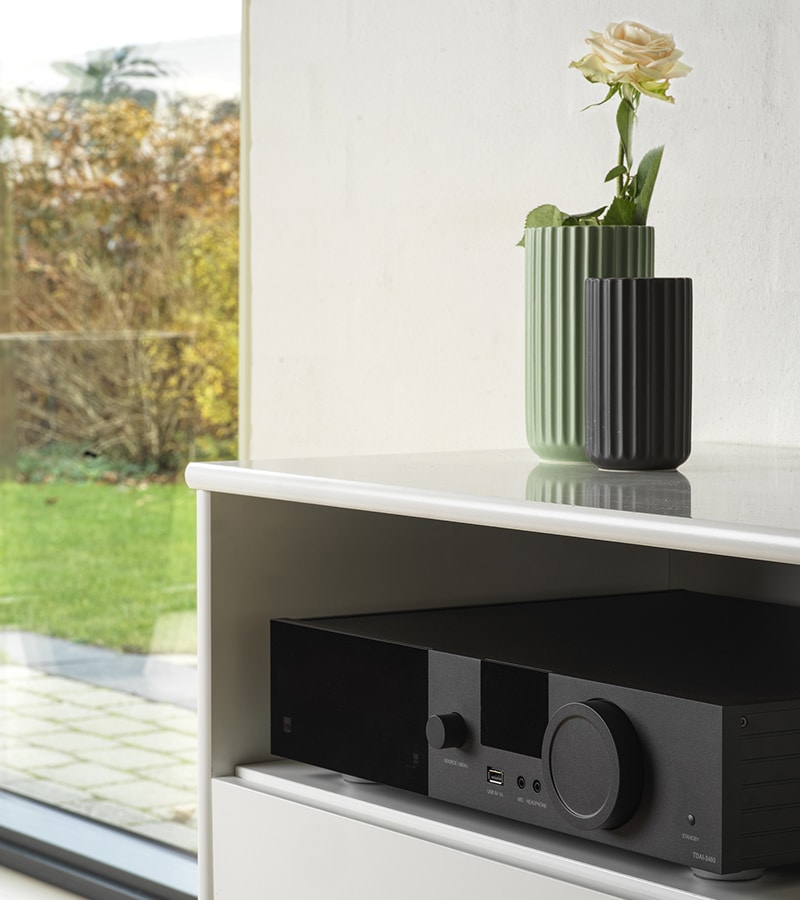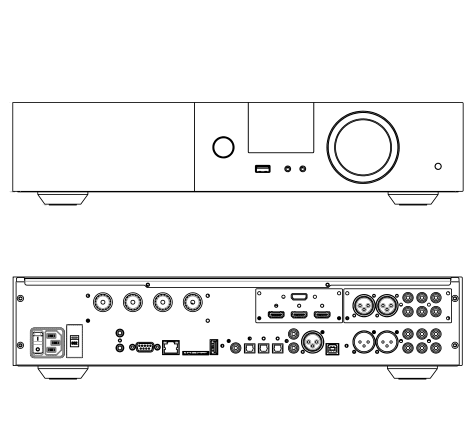 Specifications
Description: 2-channel integrated amplifier and audio processor
Power handling: 2×400 W RMS @ 4Ohm / 2x200W RMS @ 8Ohm
Max output current: 40A
Audio specifications: Frequency Response: ±0,5dB from 20 to 20,000 Hz, Total Harmonic Distortion: 0.05% max from 20 to 20,000 Hz, THD-N 1w/8ohm 0,04% / THD-N 1w/4ohm 0,04%
Digital inputs (asynchronous): 1 x AES-EBU (≤192kHz/24bit), 2 x Coaxial (≤192kHz/24bit), 3 x Optical (≤96 kHz/24bit), 1 x USB B (≤384kHz/32bit, ≤DSD128, DXD)
Analog inputs: 2 x Analog Single Ended RCA (Max level: 4.0V = 0dBFS), 1 x Microphone input for RoomPerfect™ calibration
HDMI module (optional): 1 x HDMI Output / 3 x HDMI Inputs (PCM ≤192kHz/24bit), eARC/ARC (PCM ≤192 kHz/24bit), CEC integration, HDMI 2.0b support, HDCP 2.2, Resolutions requiring 600 MHz clock supported
High-end analog input module (optional): 1 x RIAA Phono MM, 2 x single ended RCA, 1 x balanced XLR
Digital outputs: 1 x coaxial digital (96kHz / 24 bit)
Analog outputs: 1 x analog single ended RCA, 1 x analog balanced XLR, 1 x headphone output 3.5mm Jack
EQ: RoomPerfect™, Pre-Equalizer, ICC, 32 x adjustable voicings holding ≤8 filters with adjustable gain and Q
Mediaplayer: Roon Ready, Spotify Connect, Tidal Connect, DLNA Support (uPnP), Airplay 2, Local file playback (USB), Internet Radio (vTuner), MQA Core Decoder (output is 88.2kHz or 96kHz)
Wireless connections: Bluetooth (for Remote Control and BLE), Wi-Fi (802.11 n/ac)
Interfaces: Web-interface, IP Control, 1 x DB9 connector for RS232 control, 1 x RJ45 Ethernet LAN connector, 2 x USB connectors (Type A) , SD card slot (Backup of filters and settings)
Accessories included: RoomPerfect™ Microphone, Microphone stand, cable & mini-jack connector, Remote control (IR / BLE)
Placement options: Optional rack mount or freestanding
Heat dissipation value: 270 BTU
Dimensions (Wx H x D): 45 x 10.5 x 36 cm (including connectors) / 17.7 x 4.1 x 14.1 inches
Weight: 8.2 kg / 18.1 lb
Finish: Matte black
Downloads:
Windows drivers for USB module
External control manual
Technical drawings
TDAI voicings
Latest software
Owner's manual
Quick guide
Control4 driver
Fact sheet
Pictures
Modulární aktualizace pro TDAI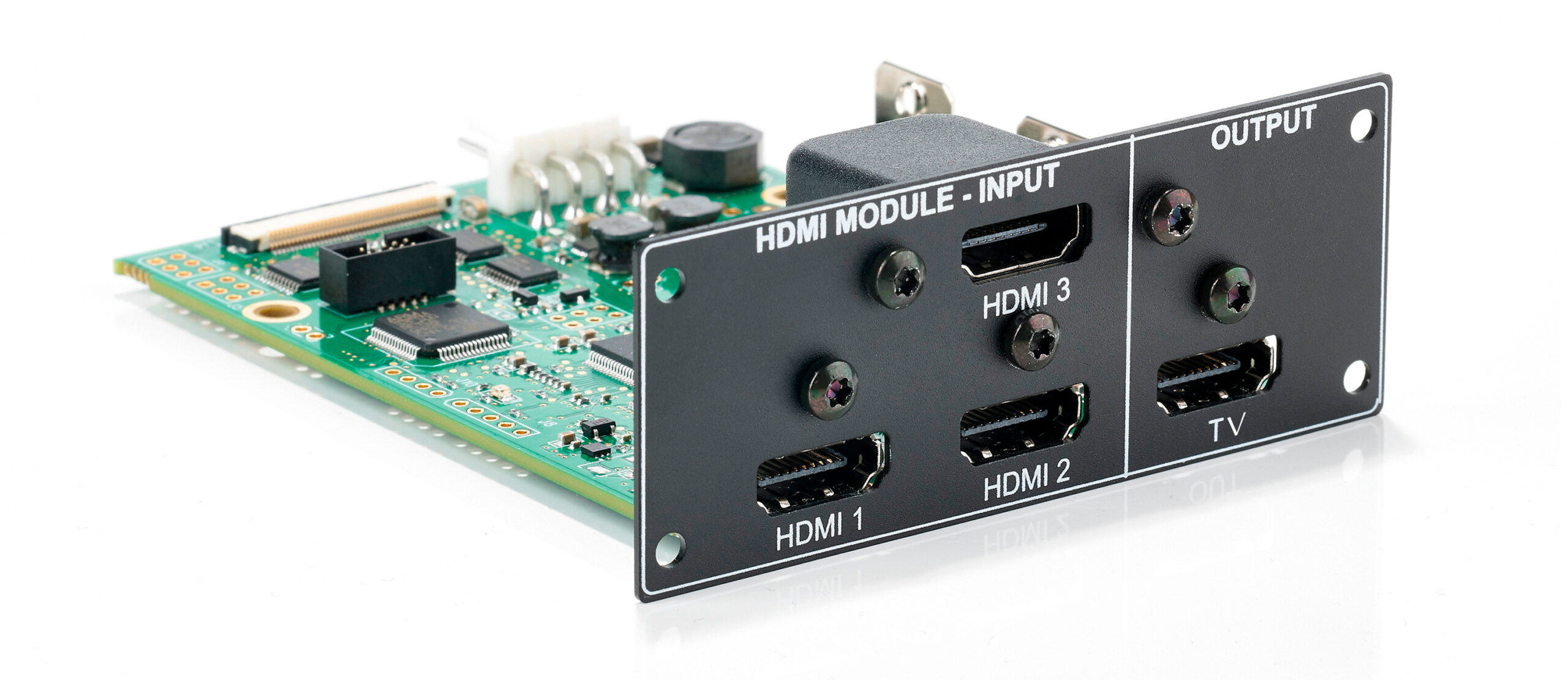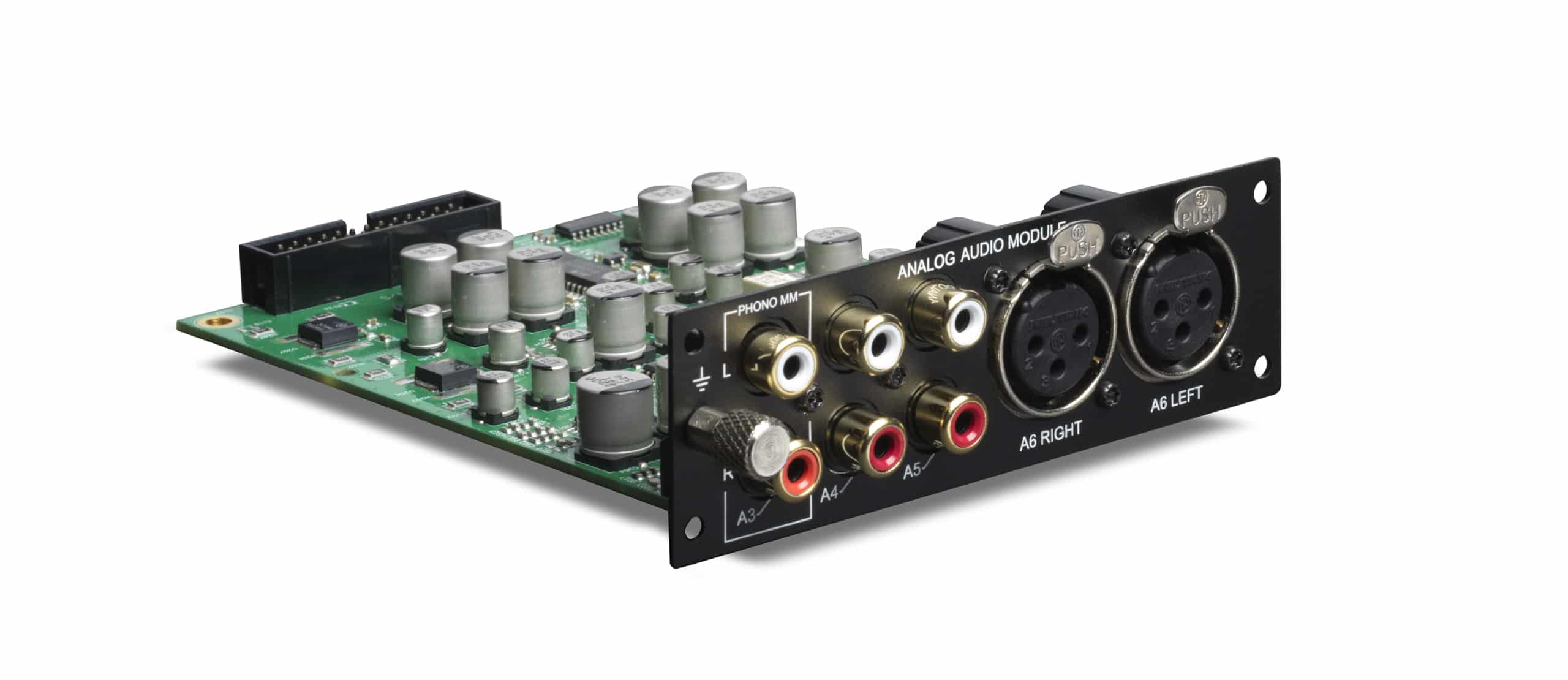 Vstupní/výstupní modul HDMI 4K
Upgrade modulu HDMI podporuje normu HDMI 2.0b s průchodností 18 Gb/s a všechny formáty HDR. Modul nabízí jedinečný a inteligentní způsob integrace zvuku a obrazu ve vašem obývacím pokoji a současně plné využití vyššího kontrastu a lepších detailů ze zdrojů 4K HDR a monitorů. Nespokojujte se se zvukem reproduktorů vestavěných ve vašich televizorech – nastal čas na upgrade.
HDMI modul se 3 vstupy (≤192 kHz/24 bitů a jeden výstup / kompatibilní s CEC a eARC/ARC)
Špičkový analogový vstupní modul
Špičkový analogový vstupní modul je navržen tak, aby podporoval všechny vysoce kvalitní analogové zdroje. Jeho součástí je také zvláštní vstup s kompenzací RIAA. Modul obsahuje čtyři analogové vstupy – 1 phono (přenoska RIAA, MM), 2 nesymetrické vstupy RCA (cinch) a 1 symetrický vstup XLR. Citlivost každého vstupu lze zvýšit až o 24 dB, přičemž prvních 6 dB zisku je zpracováno prostřednictvím relé s pozlacenými kontakty, aby bylo možné plně využít úrovňovou rezervu analogově-digitálního převodníku.
Špičkový analogový vstupní modul (1 Phono (přenoska MM), 3 analogové linkové vstupy)
Přečtěte si nejnovější recenze
Související produkty
Možná se vám bude také líbit…

Zesilovač
Lyngdorf TDAI-1120


Zesilovač
Lyngdorf SDA-2400

CD přehrávač
Lyngdorf CD-2